Business & Tourism Educators Articulation & Conference
Environmental Session 3
Earthworks: An Interdisciplinary Project
Session Summary
Roy's presentation will look at EarthWorks as a model of interdisciplinary environmental learning at Capilano University. In his talk, he will outline this model led by diverse faculties with a common goal: to provide environmental education opportunities for extracurricular learning for Cap U students.
Roy will highlight the development of a lecture and film series that supports classroom learning and how Cap U students take leadership roles in the planning and implementation of the events.
• Learn how invasive species plant pulls are linked into Tourism programming,
• how Outdoor Recreation students facilitate a topical environmental film led by its producer,
• how partnerships with local environmental non-profits connect Biology students to service learning,
• how Geography students take leadership roles in leading a waste audit,
• how Marketing students lead a local farmer's market and Business students create a plan for zero waste stations
Ultimately, EarthWorks mission is to educate and inspire students across disciplines to understand complex environmental issues, enabling them to take action for positive change. [Presentation]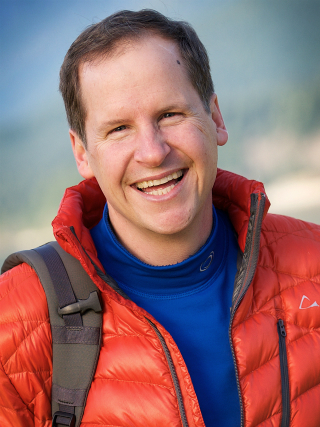 Roy Jantzen
Master of Arts in Environmental Education and Communications
Faculty of Global & Community Studies
Capilano University
Roy Jantzen is a professor of Natural History, Ecotourism, and Environmental Stewardship in the Faculty of Global and Community Studies at Capilano University. He holds a Master of Environmental Education and Communication from Royal Roads University and excels in and enjoys teaching students in Tourism, Outdoor Recreation and Global Stewardship. For over two decades, Roy has helped educate the public about the importance of biodiversity and our human place within it. Though he has a passion for local ecosystems and the species that inhabit them, he also has a strong desire to relate the environment to our lives and to larger planetary issues.
Using information that he also shares in his natural history courses, he recently published a book entitled, Active Vancouver: A Year-Round Guide to Outdoor Recreation in the City's Natural Environments. In addition, Roy has stayed closely connected to the adventure industry in BC and the Yukon. He leads an ecotourism and consulting company he began 24 years ago, has organized multiple industry advisory committees, and continues to facilitate student connections to adventure business owners and operators.